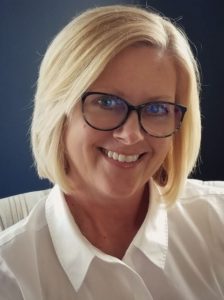 For appointment, contact: 616-516-1570
hendersonlpc@gmail.com
Request an Appointment Below: For Kris Only
Hello, I'm Kris Henderson; let me introduce myself. I grew up in West Michigan and married my high school sweetheart. After having our son and daughter, decided to go to college and received my undergrad degree in Sociology. I'm so thankful I had the opportunity to be a stay-at-home Mom for a number of years but also had bigger goals of working with people in a counseling setting.
I would have never guessed how my original goal would take some twist and turns, but I think it's another example of how life will take you on a different journey sometimes.
I became interested in working in the alcohol and other drug prevention field and did that for a number of years. I enjoyed particularly working with students and in school systems and decided it was time to up-the-ante and so while my oldest was in middle school, I started the process of getting my Masters degree in Counseling Education and Counseling Psychology, along with credentials as a School Counselor I also became a fully licensed counselor in the State of Michigan.
Once again, my ultimate goal was to land a job in a school system but alas that was not to be. I went into private practice as a neurofeedback therapist and then on to other organizations for a number of years. I decided that "working for the other Man" was not for me and with an entrepreneurial spirit decided to go back into private practice….and have been there ever since.
My husband and I have been 'empty-nesters' for years now and thoroughly enjoy our time together either at the waters edge (somewhere, anywhere!) or time spent with family and friends. We enjoy lots of time with our granddaughter and have a blast with her, as well as our kids and their spouses.
You know when you're suppose to do something because it feels right, and it's a joy to do it. Well that's what I'm doing right now. There are some days when I think how lucky I am that I get to talk to someone different all the time, there is no one day the same, and there's nothing better than witnessing people go from despair to happiness.
I am a counselor who provides help and support for individuals and/or family's who may be facing difficult life transitions, relationship problems, mental or physical illnesses, or emotional crises. I use a proactive approach to help you form new thinking and behavioral patterns that will help you live a happier and healthier life through conscious decision making.
My goal is to assist you in making positive changes which will allow you to live a more productive and fulfilled life . Walking along side people on their road to health or happiness is a privilege and I can't wait to meet you. Give me a call at 616-516-1570 and let's start on your new journey!