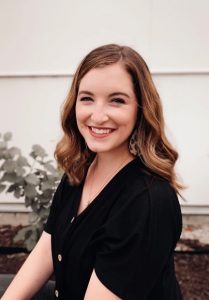 For appointment, contact: 616-294-0754
or chelseawiersema@gmail.com
Hi! I am Chelsea Wiersema- mom, daughter, sister, friend, counselor, avid concert-goer, board game enthusiast, and fan of all things West Michigan. I grew up in the Grandville area, and am thrilled to be working with families and children in the community where I was raised! 
I attended Grand Valley State University for my undergraduate and graduate degrees. Throughout my time in college and beyond, I have been able to experience and work with so many wonderful organizations in our community. Despite loving aspects of each opportunity, I found so much joy in the one on one time I got to spend with the families and children I met along the way. I knew that counseling and therapy was the right fit for me!    
My favorite part of my job is truly getting to know the families, children, and adolescents that I get to work with. Each client is unique, each experience is unique, therefore every hour of my day is unique! It is a privilege to get to work alongside families and help them celebrate their child through their successes and progress in therapy. I love utilizing techniques from play therapy, art therapy, talk therapy, cognitive behavioral therapy, and more.   
I have clinical experience working with children from ages 4-13 who may be experiencing anxiety, ADHD, social skill/social language concerns, mood dysregulation, family/peer conflicts, and adjusting to life changes. I also work with children who are on the Autism Spectrum on social engagement, conversation modeling, social interactions and more! Along with working with children in an individual setting, I also enjoy facilitating family and group sessions for treatment! 
If you are interested in scheduling a session with me, please feel free to reach out to me directly via email at chelseawiersema@gmail.com, or by phone at 616-294-0754. I look forward to meeting you soon!