Sports Psychology and Mental Strength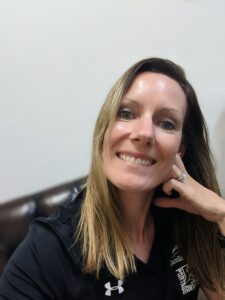 For appointment, contact: 616-644-1946
epsportspsychology@gmail.com
My goal as an Adjunct Professor of Kinesiology and a coach is to help you develop your self confidence and self worth so you can strive to reach your personal best. I believe each person should be respected, feel connected and supported, and valued as an individual. My approach is to find the root cause of performance weakness and develop strengths. It is important to notice where negative emotions are stemming from, teach coping strategies, and have you develop an awareness of self so they thrive with excellence.
I have experience educating preschool-college age individuals, plus adults. I have worked with football athletes, swimmers, softball/baseball players, runners, lacrosse players, Track and Field athletes, among other athletes and business owners. I have built athletic programs from the ground up, worked with state qualifying athletes, broken records in conference championships, while creating a strong cohesive team culture. The work we do together paves the way for you to reach your full potential.
Please contact me today to get started or with any questions.
Call: 616-644-1946
Email: epsportspsychology@gmail.com
Background and Education
I earned my teaching degree from Central Michigan University and Masters degree in Applied Sports Psychology from Adams State University. I am Certified Mental Performance Consultant, Hatha Yoga Certified, National Academy of Sports Medicine-Certified Personal Trainer and USA Swim certified. I have been involved in athletics for 18 years and have enjoyed every moment of it. I have three children who are highly competitive athletes in West Michigan. They have broken records, qualified for state and multi-state champions, and have an overall passion for athletics. As a competitive runner myself, I am very passionate about watching the growth and development of athletes over time.
Specialization
Anxiety
Coach/parent education
Coach teaching
Elite sport performance
Emotional Intelligence
Exercise/fitness/health and well-being
Exercise trainers/professionals
Focus
Injury and rehab
Leadership
Life skills
Meditation
Public speaking
Sport mental trainingStress management
Team culture/cohesion
Yoga
Youth sport
Mental Skills Training
Confidence
Focus & Concentration
Goal setting
Mindfulness & meditationMotivation
Overcoming performance anxiety
Positive Self-talk
Visualization/Imagery